.

FIFA 365 Adrenalyn XL 2021 Update Edition
Panini, 2021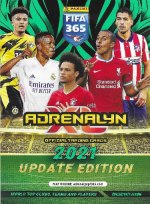 Name: FIFA 365 Adrenalyn XL 2021 Update Edition
Company: Panini
Year: 2021

Total stickers: 159
Numbers: 0
Special stickers: LE Diogo Jota (Liverpool FC), LE Donny van de Beek (Manchester United), LE Leroy Sane (FC Bayern München), LE Rodrygo (Real Madrid), LE Sergino Dest (FC Barcelona), LE Weston McKennie (Juventus Turin), UE001, UE002, UE003, UE004, UE005, UE006, UE007, UE008, UE009, UE010, UE011, UE012, UE013, UE014, UE015, UE016, UE017, UE018, UE019, UE020, UE021, UE022, UE023, UE024, UE025, UE026, UE027, UE028, UE029, UE030, UE031, UE032, UE033, UE034, UE035, UE036, UE037, UE038, UE039, UE040, UE041, UE042, UE043, UE044, UE045, UE046, UE047, UE048, UE049, UE050, UE051, UE052, UE053, UE054, UE055, UE056, UE057, UE058, UE059, UE060, UE061, UE062, UE063, UE064, UE065, UE066, UE067, UE068, UE069, UE070, UE071, UE072, UE073, UE074, UE075, UE076, UE077, UE078, UE079, UE080, UE081, UE082, UE083, UE084, UE085, UE086, UE087, UE088, UE089, UE090, UE091, UE092, UE093, UE094, UE095, UE096, UE097, UE098, UE099, UE100, UE101, UE102, UE103, UE104, UE105, UE106, UE107, UE108, UE109, UE110, UE111, UE112, UE113, UE114, UE115, UE116, UE117, UE118, UE119, UE120, UE121, UE122, UE123, UE124, UE125, UE126, UE127, UE128, UE129, UE130, UE131, UE132, UE133, UE134, UE135, UE136, UE137, UE138, UE139, UE140, UE141, UE142, UE143, UE144, UE145, UE146, UE147, UE148, XXL Cristiano Ronaldo, XXL Erling Haaland, XXL Kylian Mbappe, XXL Lionel Messi, XXL Serge Gnabry

Members that swap: 29
Stickers offered: 1,214
Stickers wanted: 939

Remarks: -
Collect and swap
To collect and swap this serie you have to login.
You don't have an account, yet ? Hurry up...
---

Share on Facebook
| | |
| --- | --- |
| Link: | [serie]3290[/serie] |

klebebildchen.net

on facebook
112 people like that
Bit by bit - sticker by sticker