.

FIFA 365 Adrenalyn XL 2019 Update Edition
Panini, 2019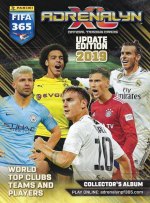 Name: FIFA 365 Adrenalyn XL 2019 Update Edition
Company: Panini
Year: 2019

Total stickers: 181
Numbers: 0
Special stickers: Christian Gytkjaer, LE Angel Di Maria, LE Antoine Griezmann, LE Arkadiusz Milik, LE Aymeric Laporte, LE Breel Embolo, LE Cafu, LE Carlitos, LE Cristiano Ronaldo, LE Dani Alves, LE David Alaba, LE Davide Lanzafame, LE Denzel Dumfries, LE Fernandinho, LE Filipe Luis, LE Gareth Bale, LE Istvan Kovacs, LE Ivan Perisic, LE Jadon Sancho, LE Jesus Corona, LE Joao Amaral, LE Jordi Alba, LE Jose Callejon, LE Kevin De Bruyne, LE Kylian Mbappe, LE Lionel Messi, LE Lorenzo Melgarejo, LE Luka Modric, LE Luuk de Jong, LE Marcel Heister, LE Marcelo, LE Marcelo Brozovic, LE Marco Reus, LE Mario Mandzukic, LE Mark Uth, LE Marko Scepovic, LE Matteo Politano, LE Mauro Icardi, LE Neymar Jr, LE Online Card, LE Ousmane Dembele, LE Paco Alcacer, LE Raheem Sterling, LE Salvatore Bocchetti, LE Saul, LE Simone Verdi, LE Thomas Müller, LE Tiquinho Soares, LE Vinicius, UE001, UE002, UE003, UE004, UE005, UE006, UE007, UE008, UE009, UE010, UE011, UE012, UE013, UE014, UE015, UE016, UE017, UE018, UE019, UE020, UE021, UE022, UE023, UE024, UE025, UE026, UE027, UE028, UE029, UE030, UE031, UE032, UE033, UE034, UE035, UE036, UE037, UE038, UE039, UE040, UE041, UE042, UE043, UE044, UE045, UE046, UE047, UE048, UE049, UE050, UE051, UE052, UE053, UE054, UE055, UE056, UE057, UE058, UE059, UE060, UE061, UE062, UE063, UE064, UE065, UE066, UE067, UE068, UE069, UE070, UE071, UE072, UE073, UE074, UE075, UE076, UE077, UE078, UE079, UE080, UE081, UE082, UE083, UE084, UE085, UE086, UE087, UE088, UE089, UE090, UE091, UE092, UE093, UE094, UE095, UE096, UE097, UE098, UE099, UE100, UE101, UE102, UE103, UE104, UE105, UE106, UE107, UE108, UE109, UE110, UE111, UE112, UE113, UE114, UE115, UE116, UE117, UE118, UE119, UE120, UE121, UE122, UE123, UE124, UE125, UE126, UE127, UE128, UE129, UE130, UE131, UE132

Members that swap: 29
Stickers offered: 921
Stickers wanted: 1,160

Remarks: Nicht in Deutschland erhältlich, nur in Ländern wie Niederlande, Belgien, Ungarn, Polen, Finnland.
Collect and swap
To collect and swap this serie you have to login.
You don't have an account, yet ? Hurry up...
---

Share on Facebook
| | |
| --- | --- |
| Link: | [serie]3062[/serie] |

klebebildchen.net

on facebook
112 people like that
I'm still klebing, yeah, yeah, yeah.