.

Lego Avengers Trading Card Collection Serie 1
Blue Ocean, 2023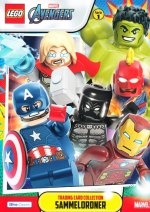 Name: Lego Avengers Trading Card Collection Serie 1
Company: Blue Ocean
Year: 2023

Total stickers: 268
Numbers: 1-236
Special stickers: LE01, LE02, LE03, LE04, LE05, LE06, LE07, LE08, LE09, LE10, LE11, LE12, LE13, LE14, LE15, LE16, LE17, LE18, LE19, LE20, LE21, LE22, LE23, LE24, LE25, LE26, LE27, LE28, LE29, LE30, [Leeralbum], [Stickertüte]

Members that swap: 22
Stickers offered: 1,612
Stickers wanted: 652

Remarks: Limitierte Karten:
LE01 Captain America, LE02 Thor, LE03 Hulk, LE04 Iron Man, LE05 Black Panther, LE06 Doctor Strange, LE07 Thanos & Ronan,
LE08 Captain Marvel, LE09 War Machine, LE10 Ant-Man, LE11 Black Widow, LE12 Nick Fury, LE13 Abomination, LE14 Red Skull, LE15 Loki,
LE16 Thanos, LE17 Thor & Jane Foster, LE18 Hulk & She-Hulk, LE19 Iron Man & Ironheart, LE20 Doctor Strange & America Chavez,
LE21 Hulk vs. Red Hulk, LE22 Captain America vs. Thanos, LE23 Comic Captain Marvel vs. M.O.D.O.K., LE24 Comic Black Widow vs. Taskmaster,
LE25 Comic Captain America & Bucky Barnes, LE26 Comic Hawkeye & Kate Bishop, LE27 Comic Ant-Man & Wasp,
LE28 Comic Iron Man vs. Thanos, LE29 comic Thor vs. Loki, LE30 Comic Hulk vs. Red-Hulk
Collect and swap
To collect and swap this serie you have to login.
You don't have an account, yet ? Hurry up...
---

Share on Facebook
| | |
| --- | --- |
| Link: | [serie]3589[/serie] |

klebebildchen.net

on facebook
112 people like that
I'm still klebing, yeah, yeah, yeah.