.

Superliga Kort 2012-2013
Sonstiges, 2012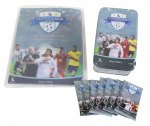 Name: Superliga Kort 2012-2013
Company: Sonstiges
Year: 2012

Total stickers: 213
Numbers: 0
Special stickers: Adam Eckersley, Adama Tamboura, Adeola Runsewe, Alexander Fischer, Anders Christiansen, Anders Due, Anders Egholm, Anders Kure, Anders Møller Christensen, Anders Nøhr, Anders Randrup, André Bjerregaard, Andreas Cornelius, Andreas Johansson, Andreas Laudrup, Andreas Oggesen, Ariël Jacobs, Arnór Smárason, Aron Jóhansson, Arthur Sorin, Atle Roar Håland, Auri Skarbalius, Bashkim Kadrii, Bjarni Vidarsson, Bjørn Paulson, Casper Sloth, Cesar Santin, Charlie Davies, Chris Sørensen, Christian Bolaños, Christian Grindheim, Christian Holst, Christian Keller, Christian Sørensen, Christopher Poulsen, Clarence Goodson, Claudemir De Souza, Colin Todd, Conor S. O'Brien, Daniel A. Pedersen, Daniel Christensen, Daniel Høegh, Daniel Norouzi, Daniel Stenderup, Danny Olsen, Dario Dumic, David Ousted, Davidson Drobo-Ampen, Dennis Flinta, Dennis Rommedahl, Emblem AaB, Emblem AC Horsens, Emblem AGF, Emblem Brøndby IF, Emblem Esbjerg fB, Emblem FC København, Emblem FC Midtjylland, Emblem FC Nordsjaelland. Ivan Runje, Emblem OB, Emblem Randers FC, Emblem Silkeborg IF, Emblem SønderjyskE, Emil Larsen, Enock Kofi Adu, Erik Sviatchenko, Espen Ruud, Eyólfur Hédinsson, Franck Semou, Frank Hansen, Frank Kristensen, Glen Riddersholm, Hákon Opdal, Hallgrimur Jónasson, Hans Henrik Andreasen, Henrik Bødker, Henrik Dalsgaard, Henrik Hansen, Henrik Pedersen, Henrik Toft, Hjalte Nørregaard, Izunna Arnest Uzochukwu, Jacob Schoop, Jakob Ahlmann, Jakob Ankersen, Jan Kristiansen, Jarl André Storbaek, Jens Larsen, Jeppe Curth, Jeppe Mehl, Jerry Lucena, Jerry Lucena, Jesper Bech, Jesper Christiansen, Jesper Hansen, Jesper Juelsgård Kristensen, Jesper Lange, Jesper Lauridsen, Jesper Mikkelsen, Jesper Rasmussen, Jess Thorup, Johan Wiland, Johnny Mølby, Johnny Thomsen, Jonas Kamper, Jonas Knudsen, Jonas Lössl, Jores Okore, Joshua John, Jude Ikechukwu Nworuh, Kalilou Traoré, Kasper Bøgelund, Kasper Hjulmand, Kasper Kusk, Kasper Larsen, Kasper Lorentzen, Kasper Povlsen, Kasper Risgård, Kayke, Keld Bordinggaard, Ken Fagerberg, Kenan Hajdarevic, Kenneth Emil Petersen, Kenneth Fabricius, Kent Nielsen, Kian Hansen, Kolja Afriyie, Kris Stadsgaard, Kristian Bak Nielsen, Lars Jacobsen, Lars Søndergaard, Lasse Heinze, Lasse Kryger, Lasse Nielsen, Lasse Rise, Lasse Vibe, Lucas Andersen, Lukas Hradecky, Mads Fenger, Mads Winther Albaek, Mario Ticinovic, Martin Braithwaite, Martin Jørgensen, Martin Retov, Martin Spelmann, Martin Svensson, Martin Vingaard, Marvin Pourié, Mathias Wichmann, Matthias Gehrt, Michael Falkesgaard, Michael Parkhurst, Michael Tørnes, Mike Jensen, Mikkel Agger, Mikkel Beckmann, Mikkel Thygesen, Mikkel Vendelbo, Morten Nordstrand, Morten Rasmussen, Morten Rasmussen, Morten Skoubo, Mustafa Abdellaoue, Nabil Aslam, Nicklas Helenius, Nicolai Høgh, Nicolai Larsen, Nicolai Stokholm, Nicolaj Ritter, Niels Lodberg, Njogu Demba-Nyrén, Oke Akpoveta, Oliver Feldballe, Osama Akharraz, Pape Pate Diouf, Patrick Kristensen, Patrick Mtiliga, Peter Graulund, Peter Sørensen, Petter Andersson, Pierre Bengtsson, Quincy Antipas, Rasmus Falk, Rasmus Würtz, Rawaz Lawan, Remco Van der Schaaf, Rilwan Olanrewaju Hassan, Robert Veselovsky, Ronnie Schwartz, Rurik Gislason, Santiago Hernan Villefañe, Sebastian Andersen, Simon Makienok, Solvi Ottesen, Søren Berg, Søren Christensen, Søren Jensen, Søren Jochumsen, Søren Larsen, Steffen Ernemann, Steffen Rasmussen, Stephan Petersen, Sylvester Igboun, Thomas Augustinussen, Thomas Delaney, Thomas Kortegaard, Thomas Kristensen, Thorbjørn Holst Rasmussen, Tidiane Sane, Tim Janssen, Tommy Bechmann, Tore Reginiussen, Troels Bech, Troels Kløve

Members that swap: 2
Stickers offered: 13
Stickers wanted: 205

Remarks: This collection is about the highest league of Denmark, the Superliga. Every team has one card of the coach, one of the emblem and 16 or 15 players

As the cards are unnumbered and I don't have an official checklist here are the names of the 214 cards:

AaB

Emblem AaB
Anders Due
Henrik Dalsgaard
Jakob Ahlmann
Jeppe Curth
Kasper Bøgelund
Kasper Kusk
Kayke
Kenneth Emil Petersen
Kent Nielsen
Lasse Nielsen
Lucas Andersen
Mathias Wichmann
Nicklas Helenius
Nicolai Larsen
Patrick Kristensen
Rasmus Würtz
Thomas Augustinussen

AC Horsens

Emblem AC Horsens
Anders Nøhr
André Bjerregaard
Henrik Toft
Jeppe Mehl
Johnny Mølby
Ken Fagerberg
Kenan Hajdarevic
Lasse Kryger
Martin Retov
Martin Spelmann
Morten Rasmussen
Nabil Aslam
Robert Veselovsky
Søren Jensen
Søren Jochumsen
Thomas Kortegaard
Troels Kløve

AGF

Adam Eckersley
Emblem AGF
Anders Kure
Aron Jóhansson
Arthur Sorin
Atle Roar Håland
Casper Sloth
Hjalte Nørregaard
Jerry Lucena
Kasper Povlsen
Martin Jørgensen
Osama Akharraz
Peter Graulund
Peter Sørensen
Steffen Rasmussen
Stephan Petersen
Søren Berg
Søren Larsen

Brøndby IF

Anders Randrup
Auri Skarbalius
Emblem Brøndby IF
Clarence Goodson
Daniel Norouzi
Daniel Stenderup
Dario Dumic
Dennis Rommedahl
Franck Semou
Jan Kristiansen
Jens Larsen
Matthias Gehrt
Michael Falkesgaard
Michael Tørnes
Mike Jensen
Mikkel Thygesen
Oke Akpoveta
Simon Makienok

Esbjerg fB

Arnór Smárason
Davidson Drobo-Ampen
Emblem Esbjerg fB
Jakob Ankersen
Jerry Lucena
Jesper Lange
Jesper Rasmussen
Jess Thorup
Jonas Knudsen
Kian Hansen
Lukas Hradecky
Martin Braithwaite
Mikkel Agger
Mikkel Vendelbo
Nicolai Høgh
Njogu Demba-Nyrén
Sebastian Andersen
Steffen Ernemann

FC København

Andreas Cornelius
Ariël Jacobs
Cesar Santin
Christian Bolaños
Christian Grindheim
Claudemir De Souza
Emblem FC København
Johan Wiland
Kris Stadsgaard
Lars Jacobsen
Martin Vingaard
Mustafa Abdellaoue
Pape Pate Diouf
Pierre Bengtsson
Solvi Ottesen
Thomas Delaney
Thomas Kristensen

FC Midtjylland

Danny Olsen
Erik Sviatchenko
Emblem FC Midtjylland
Glen Riddersholm
Izunna Arnest Uzochukwu
Jesper Juelsgård Kristensen
Jesper Lauridsen
Jonas Lössl
Jude Ikechukwu Nworuh
Kolja Afriyie
Kristian Bak Nielsen
Mads Winther Albaek
Morten Rasmussen
Petter Andersson
Rilwan Olanrewaju Hassan
Santiago Hernan Villefañe
Sylvester Igboun
Tim Janssen

FC Nordsjaelland

Anders Christiansen
Andreas Laudrup
Enock Kofi Adu
Emblem FC Nordsjaelland
Ivan Runje
Jesper Hansen
Jores Okore
Joshua John
Kasper Hjulmand
Kasper Lorentzen
Mario Ticinovic
Michael Parkhurst
Mikkel Beckmann
Morten Nordstrand
Nicolai Stokholm
Patrick Mtiliga
Rawaz Lawan
Søren Christensen

OB

Anders Møller Christensen
Andreas Johansson
Bashkim Kadrii
Christian Sørensen
Daniel Høegh
Emil Larsen
Espen Ruud
Hans Henrik Andreasen
Jacob Schoop
Jesper Christiansen
Kalilou Traoré
Kasper Larsen
Morten Skoubo
Emblem OB
Rasmus Falk
Rurik Gislason
Tore Reginiussen
Troels Bech

Randers FC

Adama Tamboura
Alexander Fischer
Anders Egholm
Charlie Davies
Chris Sørensen
Christian Keller
Colin Todd
David Ousted
Frank Kristensen
Johnny Thomsen
Jonas Kamper
Lasse Rise
Mads Fenger
Oliver Feldballe
Emblem Randers FC
Remco Van der Schaaf
Ronnie Schwartz
Tidiane Sane

Silkeborg IF

Adeola Runsewe
Bjarni Vidarsson
Christian Holst
Christopher Poulsen
Daniel A. Pedersen
Dennis Flinta
Frank Hansen
Henrik Pedersen
Jesper Bech
Jesper Mikkelsen
Kasper Risgård
Keld Bordinggaard
Lasse Heinze
Martin Svensson
Marvin Pourié
Nicolaj Ritter
Emblem Silkeborg IF
Thorbjørn Holst Rasmussen

SønderjyskE

Andreas Oggesen
Bjørn Paulson
Conor S. O'Brien
Daniel Christensen
Eyólfur Hédinsson
Hákon Opdal
Hallgrimur Jónasson
Henrik Bødker
Henrik Hansen
Jarl André Storbaek
Kenneth Fabricius
Lars Søndergaard
Lasse Vibe
Niels Lodberg
Quincy Antipas
Emblem SønderjyskE
Tommy Bechmann
Collect and swap
To collect and swap this serie you have to login.
You don't have an account, yet ? Hurry up...
---

Share on Facebook
| | |
| --- | --- |
| Link: | [serie]1864[/serie] |

klebebildchen.net

on facebook
112 people like that
I'm still klebing, yeah, yeah, yeah.