.

REWE Offizielles DFB-Sammelalbum 2022
Rewe, 2022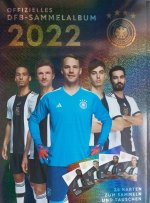 Name: REWE Offizielles DFB-Sammelalbum 2022
Company: Rewe
Year: 2022

Total stickers: 108
Numbers: 1-35
Special stickers: CC01, CC02, CC03, CC04, CC05, CC06, CC07, CC08, CC09, CC10, CC11, CC12, CC13, CC14, CC15, CC16, CC17, CC18, CC19, CC20, CC21, CC22, CC23, CC24, CC25, CC26, CC27, CC28, CC29, CC30, CC31, CC32, CC33, CC34, CC35, G01, G02, G03, G04, G05, G06, G07, G08, G09, G10, G11, G12, G13, G14, G15, G16, G17, G18, G19, G20, G21, G22, G23, G24, G25, G26, G27, G28, G29, G30, G31, G32, G33, G34, G35, G36, [Leeralbum], [Tüte]

Members that swap: 369
Stickers offered: 9,818
Stickers wanted: 5,897

Remarks: Das offizielle DFB-Sammelalbum
Jetzt geht?s los! Dein DFB-Sammelalbum bekommst du vom 24.10.2022 bis zum 04.12.2022 in deinem REWE oder nahkauf Markt sowie im REWE Onlineshop ? und da gibt?s auch die DFB-Sammelkarten. Und zusätzlich gibt es die goldene Fan-Karte.
Vergolde deine Sammlung! Scanne alle 35 DFB-Sammelkarten mit der DFB-Sammel-App. So schaltest du deine goldene Fan-Karte frei und kannst sie dir gratis nach Hause schicken lassen!
Außerdem gibt es noch die limitierte Sonderedition. Mit etwas Glück schießt du dir beim Sammeln und Scannen eine echte Rarität für deine DFB-Sammlung! Denn jede der 35 DFB-Sammelkarten gibt?s auch als streng limitierte Sonderedition im edlen Collector?s Case ? jeweils nur 100 Stück!
Collect and swap
To collect and swap this serie you have to login.
You don't have an account, yet ? Hurry up...
---

Share on Facebook
| | |
| --- | --- |
| Link: | [serie]3519[/serie] |

klebebildchen.net

on facebook
112 people like that
Share what you love!