.

WM 2023 - FIFA Frauen WM - DFB Zusatz Cards
Panini, 2023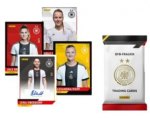 Name: WM 2023 - FIFA Frauen WM - DFB Zusatz Cards
Company: Panini
Year: 2023

Total stickers: 140
Numbers: 0
Special stickers: A1-Alexandra Popp, A1-Jule Brand, A1-Klara Bühl, A1-Laura Freigang, A1-Lea Schüller, A1-Lena Oberdorf, A1-Lina Magull, A1-Merle Frohms, A1-Nicole Anyomi, A1-Sara Däbritz, A1-Sara Doorsoun, A1-Sophia Kleinherne, A10-Alexandra Popp, A10-Jule Brand, A10-Klara Bühl, A10-Laura Freigang, A10-Lea Schüller, A10-Lena Oberdorf, A10-Lina Magull, A10-Merle Frohms, A10-Nicole Anyomi, A10-Sara Däbritz, A10-Sara Doorsoun, A10-Sophia Kleinherne, A49-Alexandra Popp, A49-Jule Brand, A49-Klara Bühl, A49-Laura Freigang, A49-Lea Schüller, A49-Lena Oberdorf, A49-Lina Magull, A49-Merle Frohms, A49-Nicole Anyomi, A49-Sara Däbritz, A49-Sara Doorsoun, A49-Sophia Kleinherne, AB-Alexandra Popp, AB-Jule Brand, AB-Klara Bühl, AB-Laura Freigang, AB-Lea Schüller, AB-Lena Oberdorf, AB-Lina Magull, AB-Merle Frohms, AB-Nicole Anyomi, AB-Sara Däbritz, AB-Sara Doorsoun, AB-Sophia Kleinherne, G-Alexandra Popp, G-Ann-Katrin Berger, G-Carolin Simon, G-Chantal Hagel, G-Felicitas Rauch, G-Jana Feldkamp, G-Janina Minge, G-Jule Brand, G-Kathrin Hendrich, G-Klara Bühl, G-Laura Freigang, G-Lea Schüller, G-Lena Lattwein, G-Lena Oberdorf, G-Lina Magull, G-Linda Dallmann, G-Merle Frohms, G-Nicole Anyomi, G-Sara Däbritz, G-Sara Doorsoun, G-Sjoeke Nüsken, G-Sophia Kleinherne, G-Svenja Huth, R-Alexandra Popp, R-Ann-Katrin Berger, R-Carolin Simon, R-Chantal Hagel, R-Felicitas Rauch, R-Jana Feldkamp, R-Janina Minge, R-Jule Brand, R-Kathrin Hendrich, R-Klara Bühl, R-Laura Freigang, R-Lea Schüller, R-Lena Lattwein, R-Lena Oberdorf, R-Lina Magull, R-Linda Dallmann, R-Merle Frohms, R-Nicole Anyomi, R-Sara Däbritz, R-Sara Doorsoun, R-Sjoeke Nüsken, R-Sophia Kleinherne, R-Svenja Huth, S-Alexandra Popp, S-Ann-Katrin Berger, S-Carolin Simon, S-Chantal Hagel, S-Felicitas Rauch, S-Jana Feldkamp, S-Janina Minge, S-Jule Brand, S-Kathrin Hendrich, S-Klara Bühl, S-Laura Freigang, S-Lea Schüller, S-Lena Lattwein, S-Lena Oberdorf, S-Lina Magull, S-Linda Dallmann, S-Merle Frohms, S-Nicole Anyomi, S-Sara Däbritz, S-Sara Doorsoun, S-Sjoeke Nüsken, S-Sophia Kleinherne, S-Svenja Huth, W-Alexandra Popp, W-Ann-Katrin Berger, W-Carolin Simon, W-Chantal Hagel, W-Felicitas Rauch, W-Jana Feldkamp, W-Janina Minge, W-Jule Brand, W-Kathrin Hendrich, W-Klara Bühl, W-Laura Freigang, W-Lea Schüller, W-Lena Lattwein, W-Lena Oberdorf, W-Lina Magull, W-Linda Dallmann, W-Merle Frohms, W-Nicole Anyomi, W-Sara Däbritz, W-Sara Doorsoun, W-Sjoeke Nüsken, W-Sophia Kleinherne, W-Svenja Huth

Members that swap: 18
Stickers offered: 151
Stickers wanted: 1,138

Remarks: Das limitierte DFB-Teamset
Jedes Set besteht aus mind. 24 Cards.
Jedes Set beinhaltet 23 Base Cards
Jedes Set beinhaltet 1 Parallel Card (/99; /23 oder 1/1).
mind. jedes zweite Pack enthält zudem noch eine Autogramm-Card.
Das Set wird als verschlossenes Pack ausgeliefert.
Dieses Produkt ist ausschließlich im Rahmen des Mega-Bundles zur FIFA Frauen WM 2023 Stickerkollektion im Paninishop erhältlich.
Die DFB Parallel-Cards sind nach der Farbe der Karte benannt:
W = Weiß (Base Card)
R = Rot (1/99 Parallel Card)
G = Gold (1/23 Parallel Card)
S = Schwarz (1/1 Parallel Card)

Die Autogramm-Cards findest du durchschnittlich in jedem zweiten Pack als zusätzliche Karte in unterschiedlichen Kategorien
Die DFB Zusatz-Autogramm Cards sind nach der Limitierung benannt:

AB = Autogramm Base (unnummerierte Base Autogramm Card)
A49 = (1/49 Parallel Autogramm Card)
A10 = (1/10 Parallel Autogramm Card)
A1= (1/1 Parallel Autogramm Card)
Collect and swap
To collect and swap this serie you have to login.
You don't have an account, yet ? Hurry up...
---

Share on Facebook
| | |
| --- | --- |
| Link: | [serie]3605[/serie] |

klebebildchen.net

on facebook
112 people like that
Share what you love!