.

WM 2022 - EXTRA- und Cola-Sticker
Panini, 2022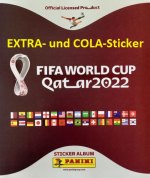 Name: WM 2022 - EXTRA- und Cola-Sticker
Company: Panini
Year: 2022

Total stickers: 94
Numbers: 0
Special stickers: B-Ali, B-Bellingham, B-Davies, B-DeBruyne, B-Eriksen, B-Gavi, B-Gravenberch, B-Lewandowski, B-Mané, B-Mbappé, B-Messi, B-Modric, B-NeymarJr, B-Ochoa, B-Reyna, B-Ronaldo, B-Son, B-Suárez, B-Varane, B-Vlahovic, C01, C02, C03, C04, C05, C06, C07, C08, C09, C10, C11, C12, C13, C14, E-Ali, E-Bellingham, E-Davies, E-DeBruyne, E-Eriksen, E-Gavi, E-Gravenberch, E-Lewandowski, E-Mané, E-Mbappé, E-Messi, E-Modric, E-NeymarJr, E-Ochoa, E-Reyna, E-Ronaldo, E-Son, E-Suárez, E-Varane, E-Vlahovic, G-Ali, G-Bellingham, G-Davies, G-DeBruyne, G-Eriksen, G-Gavi, G-Gravenberch, G-Lewandowski, G-Mané, G-Mbappé, G-Messi, G-Modric, G-NeymarJr, G-Ochoa, G-Reyna, G-Ronaldo, G-Son, G-Suárez, G-Varane, G-Vlahovic, S-Ali, S-Bellingham, S-Davies, S-DeBruyne, S-Eriksen, S-Gavi, S-Gravenberch, S-Lewandowski, S-Mané, S-Mbappé, S-Messi, S-Modric, S-NeymarJr, S-Ochoa, S-Reyna, S-Ronaldo, S-Son, S-Suárez, S-Varane, S-Vlahovic

Members that swap: 130
Stickers offered: 555
Stickers wanted: 5,030

Remarks: C = CocoCola-Sticker (Österreich)

in den Tüten als 6ter Sicker:
E = Extra-Sticker
B = Extra-Sticker Bronce
S = Extra-Sticker Silber
G = Extra-Sticker Gold
Collect and swap
To collect and swap this serie you have to login.
You don't have an account, yet ? Hurry up...
---

Share on Facebook
| | |
| --- | --- |
| Link: | [serie]3508[/serie] |

klebebildchen.net

on facebook
112 people like that
Bit by bit - sticker by sticker