.

CL 2013/2014 Adrenalyn XL Trading Card
Panini, 2013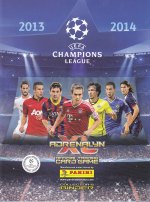 Name: CL 2013/2014 Adrenalyn XL Trading Card
Company: Panini
Year: 2013

Total stickers: 444
Numbers: 1-365
Special stickers: Agüero, Alves, Aubameyang, Bale, Bale XXL, Balotelli, Bender, Blaszczykowski, Bourceanu, Casillas, Cavani, DM Claudemir, DM Jacobsen, DM Jorgensen, DM Vetokele, DM Wiland, Drogba, Fabianski, Fischer, Gardos, German Glories Final Wembley 2013 - BVB, German Glories Final Wembley 2013 - FCB, German Glories Gündogan/Robben, German Glories Winners, Götze, Gündogan, Hazard, Iancu, Iasmin Latovlevici, Ibrahimovic/Cavani, Ibrahimvovic, Iniesta, Insigne, Isco, Jovetic, Kagawa, Kießling, Lewandowski, Lewandowski XXL, Llorente, Mandzukic, Mellberg, Messi, Messi XXL, Messi/Iniesta, Müller, Musa, Neuer, Neymar Jr, Özil, Pintilii, Piovaccari, Pique, Pirlo, Popa, Reus, Ribery, Robben, Robben/Götze, Ronaldo C., Ronaldo/Bale, Ronney/Van Persie, Schweinsteiger, Silva, SS Elm, SS Fischer, SS Ibrahimovic, SS Mellberg, SS Moisander, Stanciu, Szczesny, Szukala, Tanase, Tatarusanu, Tevez, van Persie, van Rhijn, Xavi, Zaha

Members that swap: 191
Stickers offered: 16,781
Stickers wanted: 10,555

Remarks: Limitierte:
Agüero
Alves
Aubameyang
Bale
Bale XXL
Balotelli
Bender
Blaszczykowski
Bourceanu
Casillas
Cavani
Drogba
Fabianski
Fischer
Gardos
Götze
Gündogan
Hazard
Iancu
Ibrahimovic
Iniesta
Insigne
Isco
Jovetic
Kagawa
Kießling
Lewandowski XXL
Lewandowski
Llorente
Mandzukic
Mellberg
Messi XXL
Messi
Müller
Musa
Neuer
Neymar Jr
Özil
Pintilii
Piovaccari
Pique
Pirlo
Popa
Reus
Ribery
Robben
Ronaldo
Schweinsteiger
Silva
Stanciu
Szczesny
Szukala
Tanase
Tatarusanu
Tevez
van Persie
van Rhijn
Xavi
Zaha

Double Trouble:
Messi/Iniesta
Ronaldo/Bale
Ronney/Van Persie
Ibrahimovic/Cavani
Robben/Götze

Scandinavien Stars:
Moisander
Fischer
Ibrahimovic
Mellberg
Elm

Dansk Mestre:
Vetokele
Wiland
Jacobsen
Claudemir
Jorgensen

Die limitierten XXL sind 4 mal so groß wie normale Karten, die Double Trouble Karten bestehen aus zwei Spielern nebeneinader.

In der Just Kick it! vom 3.12.13 gab es zwei limitierte Karten der Serie CL 2013/14 XL Adrenalyn Trading Cards.Auf jeder Karte ist die Aufschrift "German Glories Final Wembley 2013". Auf der einen Karte ist das FC Bayern München Team abgebildet, und auf der anderen das Borussia Dortmund Team.
In den nächsten Just Kick it! Zeitungen gibt es übrigens noch weitere Karten dieser Art.
Collect and swap
To collect and swap this serie you have to login.
You don't have an account, yet ? Hurry up...
---

Share on Facebook
| | |
| --- | --- |
| Link: | [serie]1866[/serie] |

klebebildchen.net

on facebook
112 people like that
I'm still klebing, yeah, yeah, yeah.