.

Star Wars - The Mandalorian
Merlin/Topps, 2021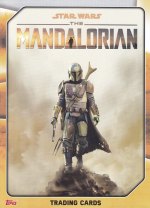 Name: Star Wars - The Mandalorian
Company: Merlin/Topps
Year: 2021

Total stickers: 239
Numbers: 1-156
Special stickers: AC-01, AC-02, AC-03, AC-04, AC-05, AC-06, AC-07, AC-08, AC-09, AC-10, C-01, C-02, C-03, C-04, C-05, C-06, C-07, C-08, C-09, C-10, C-11, C-12, C-13, C-14, C-15, C-16, C-17, C-18, C-19, C-20, C-21, C-22, C-23, C-24, C-25, CA-01, CA-02, CA-03, CA-04, CA-05, CA-06, CA-07, CA-08, CA-09, CA-10, CA-11, CA-12, CA-13, CA-14, CA-15, CA-16, CA-17, CA-18, CC-01, CC-02, CC-03, CC-04, CC-05, CC-06, CR-01, CR-02, CR-03, CR-04, CR-05, CR-06, SWA-GK, SWA-KU, SWA-MG, SWA-MO, SWA-OA, SWA-TW, TB-01, TB-02, TB-03, TB-04, TB-05, TB-06, TB-07, TB-08, TB-09, TB-10, [Leeralbum], [Stickertüte]

Members that swap: 27
Stickers offered: 2,492
Stickers wanted: 943

Remarks: Star Wars - The Mandalorian ist ein Set aus Trading cards.
Laut Checkliste besteht die Serie aus diesen Teilen:
- Base Cards der Season 1 (Nummer 001 bis 078)
- Base Cards der Season 2 (Nummer 079 bis 156)
- Concept Art (CA-1 bis CA-18)
- Tools of the Bounty Hunter (TB-1 bis TB-10)
- Comic Covers (CC-1 bis CC-6)
- Aliens and Creatures (AC-1 bis AC-10)
- Season 1 Characters (C-1 bis C-14)
- Season 2 Characters (C-15 bis C-25)
- Crystal Cards (CR-1 bis CR-6)
- Autograph Cards
- SWA-KU = Kiil (Nick Nolte)
- SWA-GK = Greef Karga (Carl Weathers)
- SWA-MG = Moff Gideon (Giancarlo Esposito)
- SWA-TW = IG-11 (Taika Waititi)
- SWA-MO = Boba Fett (Temuera Morrison)
- SWA-OA = Dr. Pershing (Omid Abtahi)

Die Character Cards sind als Base Cards enthalten. Zusätzlich gibt es diese Cards als Premium Parallel Cards in einer gelben unnummerieren Fassung sowie in Grün (x/299), Blau (x/099), Purple (x/50), Orange (x/25), Türkis (x/10), Rot (x/5) und Gold (1/1).
Collect and swap
To collect and swap this serie you have to login.
You don't have an account, yet ? Hurry up...
---

Share on Facebook
| | |
| --- | --- |
| Link: | [serie]3447[/serie] |

klebebildchen.net

on facebook
112 people like that
I'm still klebing, yeah, yeah, yeah.