.

Lego Star Wars Trading Card Collection - Serie 1
Blue Ocean, 2018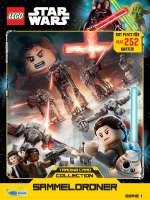 Name: Lego Star Wars Trading Card Collection - Serie 1
Company: Blue Ocean
Year: 2018

Total stickers: 281
Numbers: 1-252
Special stickers: LE01, LE02, LE03, LE04, LE05, LE06, LE07, LE08, LE09, LE10, LE11, LE12, LE13, LE14, LE15, LE16, LE17, LE18, LE19, LE20, LE21, LE22, LE23, LE24, XXL003, XXL006, XXL076, XXL082, XXL091

Members that swap: 104
Stickers offered: 7,106
Stickers wanted: 2,334

Remarks: Limitierte Karten:
LE01 Meister Yoda, LE02 Zielstrebiger Obi-Wan Kenobi, LE03 Stolzer Luke Skywalker, LE04 Erfahrener Han Solo, LE05 Unbeugsamer Chewbacca,
LE06 Gewappneter Anakin Skywalker, LE07 Mutige Rey, LE08 Hitziger Poe Dameron, LE09 Entschlossener Fn-2187, LE10 Action Captain Rex,
LE11 Wütender Darth Vader, LE12 Gefährlicher Darth Maul, LE13 Mächtige Captain Phasma, LE14 Stolzer General Grievous, LE15 Zielstrebiger Kylo Ren,
LE16 Action Todestruppler, LE17 Energischer Boba Fett, LE18 Lauernder Imperator, LE19 Anakin Skywalker vs. Count Dooku, LE20 Luke Skywalker vs. Darth Vader,
LE21 Obi Wan Kenobi vs. darth Maul, LE22 Yoda vs. Darth Sidious, LE23 Rey vs. Kylo Ren, LE24 Finn vs. Captain Phasma
Collect and swap
To collect and swap this serie you have to login.
You don't have an account, yet ? Hurry up...
---

Share on Facebook
| | |
| --- | --- |
| Link: | [serie]2965[/serie] |

klebebildchen.net

on facebook
112 people like that
I love klebebildchen.net