.

Lego Ninjago Serie 8
Blue Ocean, 2022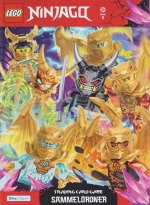 Name: Lego Ninjago Serie 8
Company: Blue Ocean
Year: 2022

Total stickers: 289
Numbers: 1-256
Special stickers: LE01 Goldddrachen-Kai, LE02 Crystalized Kai, LE03 Golddrachen-Zane, LE04 Chrystalized Zane, LE05 Oni Lloyd, LE06 Chrystalized Lloyd, LE07 Golddrachen-Jay, LE08 Chrystalized Jay, LE09 Golddrachen-Cole, LE10 Chrystalized Cole, LE11 Chrystalized Samurai X, LE12 Chrystalized Meister Wu, LE13 Oni Garmadon, LE14 Chrystalized Aspheera, LE15 Chrystalized Pythor, LE16 Chrystalized Totenkopfmagier, LE17 Chrystalized Garmadon, LE18 Chrystalized Overlord, LE19 Team Golddrachen-Kai & Jay, LE20 Team Golddrachen-Zane & Cole, LE21 Team Oni Garmadon & Lloyd, LE22 Team Pythor & Overlord, LE23 Team Totenkopfmagier & Aspheera, LE24 Team Samurai X & Meister Wu, LE25 Oni Lloyd vs. Kristallkönig, LE26 Golddrachen-Kai vs. Aspheera, LE27 Golddrachen-Jay vs. Pythor, LE28 Golddrachen-Cole vs. Totenkopfmagier, LE29 Kristallkönig Overlord, LE30 Golddrachen-Kai, XXL1 Mega Oni Lloyd, [Sammelordner], [Tüte]

Members that swap: 25
Stickers offered: 1,412
Stickers wanted: 1,509

Remarks: Nr.: 1-81 Helden, 82-153 Schurken, 154-189 Aktionskarten, 190-207 Fallenkarten, 208-225 Fahrzeugkarten, 226-252 Puzzlekarten, 253-256 Platinkarten
Collect and swap
To collect and swap this serie you have to login.
You don't have an account, yet ? Hurry up...
---

Share on Facebook
| | |
| --- | --- |
| Link: | [serie]3543[/serie] |

klebebildchen.net

on facebook
112 people like that
I love klebebildchen.net