.
Suchergebnisse
Jetzt bei Ebay

Planes
Panini, 2013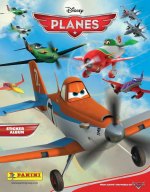 Name: Planes
Hersteller: Panini
Jahr: 2013

Anzahl Bildchen: 216
Nummern: 1-192
Sonderbildchen: P01, P02, P03, P04, P05, P06, P07, P08, P09, P10, P11, P12, P13, P14, P15, P16, P17, P18, P19, P20, P21, P22, P23, P24

Anzahl Tauschpartner: 195
Bildchen geboten: 10.730
Bildchen gesucht: 5.315

Anmerkungen: Panini are proud to announce the launch of their all new Disney Planes Sticker Collection. "Planes" follows Dusty Crophopper, a big-hearted, speed-loving duster who dreams of competing in the toughest and most exhilarating around-the-world air race in history. There are only a couple of not-so-small problems ? Dusty is not exactly built for racing and he is afraid of heights! Despite his fear and with coaching from Skipper, a naval aviator, Dusty narrowly qualifies for the big competition. But his sportsmanship and speed quickly rattles the defending champ of the race circuit, Ripslinger, who will stop at nothing to see Dusty fail. When disaster strikes during the climax of the final race, Dusty's courage is put to the ultimate test. With the support of friends old and new, Dusty reaches heights he never dreamed possible and in the process gives a spellbound world the inspiration to soar.

Panini's "Planes" sticker collection follows Dusty's journey and is jam-packed full of awesome imagery. There are 216 stickers to collect including 48 special stickers for collectors to look out for. Get your collection off to a flying start with a starter pack which includes and album and 31 stickers!
Sammeln und tauschen
Um diese Serie zu sammeln und mit Anderen zu tauschen, musst Du Dich erst einloggen.
Du hast noch keinen Account ? Dann aber schnell...
---

Auf Facebook teilen
| | |
| --- | --- |
| Link: | [serie]1834[/serie] |

klebebildchen.net

auf facebook
112 Personen gefällt das
Teile was Du liebst!